I had such an amazing reading year last year! I've reached my goal of reading 100 books by reading 102 books – which is crazy compared to what I used to read! So with all the reading I did last year, I've found a lot of great books that I would like to recommend and share with you! In no particular order, here are the top 10 best books I've read in 2019.
1. Damsel by Elana K. Arnold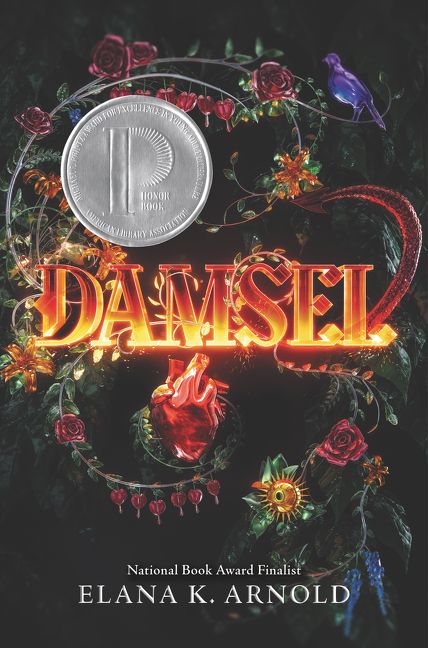 This book is incredible and I'm surprised no one talks about it! You may think this is about a cutesy fairytale: a prince fights a dragon and rescues the sleeping damsel. But surprise surprise, there is nothing enchanted about this story. After being rescued, the damsel begins to realize that things are not what they seem. Why was she saved if she was not in danger? Why doesn't she have a say on whatever is happening? And why does the prince think she is his property? Damsel is a feminist, dark retelling of your typical fairytale.
Why is this book so good? Because of how refreshing it was! It was super original and creative. There is something so great about taking a simple story and giving it a new different meaning. Definitely one of my favorite books I read last year!
2. The Hunger Games trilogy by Suzanne Collins
I know, I know… There is nothing new about this series. But I finally picked it up and I fell in love! In case you live under a rock don't know, The Hunger Games is a very well known young adult dystopian series. The main character Katniss Everdeen volunteers to participate in the annual Hunger Games to protect her sister from participating. But why? In these games invented by the Capitol to keep districts in line, two teenagers from each district are put in an arena to fight to death. Whoever is the one last standing wins the games, gets wealthy and becomes a tutor for the next tributes. So Katniss is sent to the arena and she tries to keep herself alive, using her survival skills!
Why is this book so good? There is a reason why so many people love this book. One word: concept! The book is so original and full of detail, it is impossible not to love this book. I'm also a fan of survival stories, and this is a great one! It is such a good dystopian trilogy, probably one of my favorites!
3. Sadie by Courtney Summers
Sadie was definitely my favorite audiobook of 2019! This mystery book is about a girl named Sadie, whose sister was found dead. She disappears and no one knows where she is or if anything happened to her. Enters radio host, West McCray. He finds out about Sadie's story at a gas station and he decides to start his own podcast to find out what happened to her. Through some investigation he soon discovers Sadie raised her sister and didn't have an easy life like most kids. What he doesn't know is that Sadie herself was on a quest to find her sister's killer.
Why is this book so good? The audiobook gives life to this book! I know a paperback/ebook version of this book would not have the same impact as the audio version. The story is told in two different timelines through podcast episodes and Sadie's POV in alternate chapters. The story is great, the atmosphere is eerie and mysterious, the audio matches the story perfectly… I can't recommend this enough!
4. Circe by Madelline Miller
If mythology is your jam, you should pick up Circe! Here we follow the witch Circe, daughter of the nymph Perses and the god Helios. It was obvious that since she was an infant, Circe was not a child like the others. She was rejected by everyone for being weird, not as beautiful as her mother and for possessing the ability to transform other creatures. She is quickly seen as a threat and she is banished by her father to live alone on an deserted island. On that island she discovers how powerful she really is by practicing witchcraft on a daily basis, and she finally starts to accept herself.
Why is this book so good? Because I learned so much about mythology in just one book! The story doesn't mention only Circe, there are so many crosses with other famous figures. The good thing is that you don't need to be an expert on mythology to understand the story, the author keeps it simple and contextualizes everything you need to know. If you think mythology is interesting, give this one a go and I promise you won't regret it!
5. Truly Devious series by Maureen Johnson
If I had to pick a favorite book from this list, this was probably my first choice! I read the first two books in this trilogy last year – Truly Devious (#1) and The Staircase (#2) – and I fell in love with them! In this story we follow Stevie, a girl that was accepted to the prestigious Ellingham Academy for her detective skills. Stevie has a personal mission to discover what happened to the school founder's daughter and wife who were kidnaped. The only clue known for this cold case is a riddle left behind, signed by the one and only, Truly Devious. But something unexpected happens: Truly Devious is back and students are getting killed! Stevie is now determined to find out who the murderer is.
Why is this book so good? I love that there are two different investigations, one regarding the founder's wife and daughter, and another one for the students that are living on campus in the present day. Besides, everything seems so eerie and creepy and that adds to the mysterious setting – especially those riddles! In my opinion it is a very interesting book that you won't want to put down! The last book in this series, The Hand on the Wall (#3), is going to be released in January and I can't wait to finally pick it up!
6. Heartless by Marissa Meyer
If you are a fan of retellings or the classic Alice in Wonderland, this is the perfect book for you! Heartless is a retelling of the story of the Queen of Hearts, from Alice in Wonderland. According to Marissa Meyer's story, Catherine – who later became the Queen of Hearts – was not always cold and mean like everyone thinks. She was a sweet girl that loved to bake, until she met the king's new court jester. Then her life changed forever.
Why is this book so good? The story is so complex and creative, it will inspire you! The atmosphere and the descriptions made me travel to the land of Hearts – I swear I can smell the lemon tarts! This beautiful story will break your heart, make you laugh and make you cry. It's dark and heartbreaking, but completely worth it.
7. Confess by Colleen Hoover
Colleen Hoover is such a talented writer, I swear no one writes dramatic romance like her! In my opinion, it is best if you don't know much about the story when you first dive in, so I'll give you the gist of what you should know: the story follows a girl named Auburn that meets and later falls in love with Owen, an artist, at a point where she is trying to rebuild her life and heal her broken heart. Pretty simple plot, right? Wrong. There are so many twists, secrets and other things going on, that you won't put this book down until you finish it.
Why is this book so good? If I had to narrow it down I would definitely pinpoint the originality, the crazy plot twist halfway through the book and the confessions. The most unique aspect of this book for me is how Owen used confessions from people in his town for art inspiration. The cool thing about this is that these were in reality actual confessions that Colleen's readers sent her for her book. There was something so personal about reading real confessions from real people that gave me chills. Not only that, but Colleen's writing is so good, you will be hooked from the start!
8. The Perks of Being a Wallflower by Stephen Chbosky
Looking for a good coming of age story? Say no more. I now present you The Perks of Being a Wallflower by Stephen Chbosky! Well, I know this is not a new book and I'm about 20 years late reading it, but I finally did it! It was first published in 1999 but since then it was considered a must read for people of every age. In this book, Charlie – you guessed it, the wallflower – sends letters to a friend sharing very personal thoughts and feelings about his life and his friends since he started high school.
Why is this book so good? It's heartbreaking and beautiful. It's impossible to read this book and not feel the youth and all the troubles and dilemmas that come with growing up. Also, unless you already know the story, you don't see the ending coming. Of course the author hints here and there about what may have happened, but when you finally know for sure, you feel like you were hit by a truck.
9. And Then There Were None by Agatha Christie
This is by far one of my favorite murder mysteries of all time. In this story, ten strangers were invited to stay on a private island for the weekend by an unknown host. As time goes by, they start to die mysteriously one by one after knowing their accusations! The atmosphere is tense and the strangers now suspect one another. Who is the killer and why is he or she doing this?
Why is this book so good? Because it is such a smart, well-written book! While I was reading it, I kept trying to figure out who was the killer and never in a million years I know find out what was really going on. It's an AMAZING murder mystery! I would recommend this to everyone, Agatha Christie's novels are timeless.
10. Daisy Jones and the Six by Taylor Jenkins Reid
If you are into rock and roll and you find bands from the eighties interesting, this is the book for you! This fiction book follows the band Daisy Jones and the Six. It's written with two timelines, one where you follow the band's daily life and what they did in the eighties, and another one in the present where they are giving interviews about the old times and the reason behind the group's split.
Why is this book so good? Because it is so realistic you almost forget the band never existed! I also recommend you get the audiobook version of this. The book is narrated by a full cast in an interview format, so it seems like you are hearing real interviews from real band members. It is an unforgettable book.
Have you read one of these books? What were the best books you read last year? Let me know what you think! 🙂
xoxo, Neide